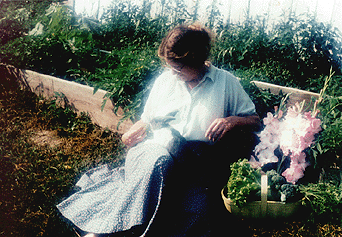 When I was a child my father was a gardener and I had the wonderful advantage of living near the woods. My father taught me to love little things and the wonder of seeing nature. The woods were a safe place to play and to let my imagination soar.
There are no degrees or art schools that I can list to prove that I learned about art in any formal manner. After high school I went to work in an advertising office. While filing, pasting, and serving coffee, I watched the artists draw. After 8 months I became the children's advertising artist...$1.15 per hour!
When my children were born I did freelance ad artwork. However, I continued to paint watercolor flowers and ladies in long gowns and to stitch. These were given as gifts. One year I spent 3 months handpainting my Christmas cards on deckle edged paper. Most of the people who received them thought they were store bought and threw them away.
When my children grew older I returned to work full time, only this time I was the top fashion illustrator at the advertising office. One dress would take up a full page and I did all of my own layouts. This is when I met my current husband, Bruce. He was the camera operator who took the pictures of my ads. Our dates were spent driving in the country taking pictures of old amish farms.
We married and moved to the country. The house was an old Victorian relic that was located near the Amish farms. All of my days were spent quilting, gardening, painting and cross stitching. The Amish family across the road became our dearest friends. We shared so much with them and I was shown a glimpse into their extraordinary lives
Circumstances made it imperative that we move back into the city. Oh how I missed my Amish friends!!! At this point I stitched my first design "The Quilting" for my home. Amish designs available in 1985 did not show the true spirit of the Amish that I had come to know. After this piece was framed, I took it proudly into my local needlework store. The owner said, "Graph it and I'll sell it." I thought she was crazy, but I did it using Xerox copies, sandwich bags and a photo. These packages didn't even have a top! She asked what I wanted to sell them for. I said, "a dollar?" When she insisted I sell it for $5, I was so embarrassed! It made me feel like I was stealing peoples' money for nothing. The owner took 25 designs and in 3 days they were sold out. We went to other stores in our area after I did the second design. Owners dragged me in the backrooms and gave me distributors names. After a few weeks, new distributors were calling me. All of my bookkeeping was kept in a little notebook. Orders poured in. We folded graphs at the dining room table and packed boxes in the kitchen. It all started with a $50 investment and no advertising...word of mouth took them all across the world. I had to learn business. I did things they said were nuts...like giving away free things, calling stores to see if the designs sold and treating my workers with respect and paying them too much money. Now the accountants and bankers look at me in wonder. I think I succeeded by doing things from instinct.
So I have learned art, business and life from others, making it up as I go along. I follow my heart and am always amazed at the results. We now live in the woods by the sea in Maine. The business is all in a 200 year old house, 2 miles from our home. My 4 older children went to college because of my little cross stitch designs. We adopted 2 babies when they were one day old. Matthew is now 8 and Sarah is 2. My home is large, so everyone returns for holidays.
Last year I had an addition put on the house with a new studio...just like a real artist! Finally I felt I deserved a nice room to work in, instead of a corner in the attic. There are large cages with my angels in this room. Three Cockatoos watch me and sit on my shoulder and listen to my music as I design. There is a large garden and flowers forever blooming around my house in the woods.
Because of the many blessings this work has given me, I feel an obligation to make each new design better than the last. When I design, I am still the stitcher. There is a magic that happens, a peace that is like a thread running through the forest and I follow it with my heart.
Marilyn Leavitt-Imblum, 1995
Addendum: Marilyn passed away peacefully in August 2012. Our lives were blessed by her art and loving spirit.

Copyright © 1995 Marilyn Leavitt-Imblum. All rights reserved.