Earthdancer......BR 7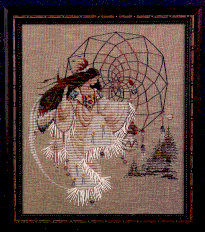 A closer look...jpeg image
This is a young native woman dancing to celebrate her world. The dreamcatcher behind her is done in long stitches and overdyed thread.
Background story
"Two years ago we adopted a bi-racial baby, Sarah Rosefeather. She was put into my arms on the day she was born by her mother. Her mother was mostly Cherokee indian and her father was African-American. I have Cherokee in my ancestors and I value this heritage. For a week I spent time with her, I talked to her birthmother about what great stories of strong women Sarah gathered about her because of her wonderful blend of cultures. This woman had great courage and she was so kind. I felt like her sister, she gave this tiny woman baby to me knowing that I would raise her to value the important things.
Eleven months later we were told that Sarah's birthmother had a seizure and died in a homeless shelter. My heart was broken for dear Sarah, because she would never be able to meet her brave Native mother. So I designed Earthdancer as a tribute to this woman who had the strength to know what was best for this baby and her wisdom and her rich culture.
Since her death I have felt her near me, watching and smiling at this beautiful child. She dances free from the bonds of earth, but her child lives and will know always of the power of a mother's love."
See also
Fabric
Stitched on 28 count Prairie Grain linen (2 over 2) from Wichelt.
Stitch count
200 x 240
Design area
14 1/4" x 17 1/8"
DMC floss
304
310
336
355
407
435
437
517
518
610
612
632
640
738
739
814
815
822
823
935
950
3011
3012
3031
3041
3042
3371
3740
3772
3773
3781
ecru
white
Specialty Items
Mill Hill beads from Gay Bowles Sales

00557 (39)
03017 (86)
02063 (230)
02064 (184)
02065 (154)
02059 (121)
02068 (60)
92011 large gold bugle bead

alternate Whimsy Beads from Wichelt Imports

5106 [for 02063] (230)
5103 [for 02064] (184)
5109 [for 02065] (154)
5112 [for 02059] (121)
5121 [for 02068] (60)

Specialty threads from Rainbow Gallery.

No. U02 Ultra-Suede
No. U82 Ultra-Suede
No. A62 Bravo multicolored thread
No. W89 Wisper thread
( ) indicates number needed.
Copyright © 1995 Marilyn Leavitt-Imblum. All rights reserved.