Rose Sampler......BR 11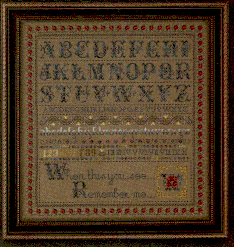 A closer look...jpeg image
This design has a wonderful old alphabet that I have seen in antique samplers. I always wanted to stitch it but couldn't because there were three missing letters. Finally I worked out the missing letters so it is complete. There is a mix of DMC and Caron Threads in this sampler and I have bordered it with realistic roses. My manager Kim said "I'll never stitch all those roses..." so I have included a plain border as an alternate choice for Kim and all her friends. The Quote is "When this you see...remember me..." This will be a Butternut Road design because I think improving samplers is always a reflection of the stitchers skill.
We used -Charcoal and Royal Jewels- Caron Collection Wildflower thread
See also
Fabric
Stitched on
32 count Belfast Dirty Linen (2 over 2) from Zweigart or
28 count Cashel Dirty Linen (2 over 2) from Zweigart
Stitch count
242 x 250
Design area
15 1/6" x 15 2/3" (32 count)
17 1/4" x 17 7/8" (28 count)
Frame
Frame no. 491 CW from Larson-Juhl
DMC floss
321
739
814
815
816
829
832
834
924
926
927
936
3031 (2)
3051
3052
3053
3768
Specialty Items
Wildflowers from Caron Collection

Charcoal (2)
Royal Jewels
( ) indicates number needed.
Copyright © 1995 Marilyn Leavitt-Imblum. All rights reserved.