Amish Pioneer......TG 9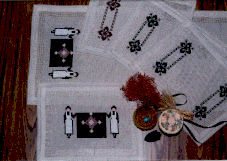 A closer look...jpeg image
These two designs can be used on a table runner, placemats, and a table cloth. The first design shows two Amish quilters, the second is a geometric country pattern.
See also
Fabric
Stitched on "Pioneer" pre-finished linens from Wichelt.
DMC floss
225
310
315
316
731
754
934
939
white
Copyright © 1995 Marilyn Leavitt-Imblum. All rights reserved.